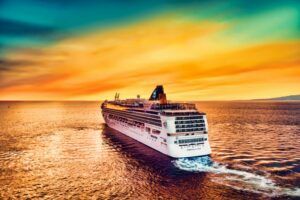 The expedition cruise segment's boisterous growth is not being matched by adequate measures to ensure vessel safety in the frontier areas, says Jorgen Grindevoll, the co-founder of Ladar Limited. Without introducing technology to identify threats such as icebergs or water borne debris, it's only 'a matter of time' before a serious accident and, potentially, significant loss of life.
Expedition cruise is currently one of shipping's most dynamic segments. Ambitious owners and operators are both seeking to satisfy growing demand for intimate vessels and adventurous locations and currently have over 30 specialised vessels on order. Itineraries include everywhere from the polar regions to West Africa, Pacific islands, and far east Russian locations, such as Kamchatka.
A new risk environment
While these destinations, usually defined by their spectacular nature and 'untouched' remoteness, offer obvious attractions, they also present challenges which should not be overlooked. Firstly, these are invariably far-flung places with either sparse or non-existent infrastructure for conducting search and rescue operations. That means that if there is an incident then vessels, their crews and passengers are often out there 'on their own'. So optimal standards of safety are, or certainly should be, an absolute prerequisite. Secondly, to get to these places vessels inevitably have to travel long distances, as quickly as possible and often through the night (as the destination is the main selling point, not the journey) in increasingly hazardous waters. In the polar regions, there is obvious danger posed by ice, whereas in routes that cross busier sea lanes there are other risks – such as floating containers that have fallen from cargo ships. Hit any of these things at full speed and an expedition cruise ship is in very grave danger. We could, unfortunately, be looking at the next Titanic.
Conventional failings
Conventional sonar and radar will simply not detect objects floating at sea level, whereas officers put on watch as a safety net are, quite literally, out of their depth. To expect an officer with a pair of binoculars – on a long shift, in bad weather (potentially driving snow), at night – to be able to effectively scan the ocean and capture all risk potential is, frankly, ridiculous. Perhaps 100 years ago there may have been no other solution, but surely today, in the digital age, we can offer adventurous passengers something more to safeguard them in these frontier territories? The team at LADAR has the solution that could revolutionise safety standards – and not just for expedition cruises, but for shipping in general.
Comprehensive detection solution
The UK-based company has developed a patented 'radar equivalent' which utilises lasers to scan the ocean surface – down to depths of 10 meters at close range and for up to a nautical mile for surface or slightly submerged objects. It delivers detection of submerged objects and debris, such as containers, plastic, fishing nets, small barges, humans/man overboard, ice floes, oil spills in the water column, plastic, and much more. With a compact size, low weight and modular construction it can be tailored for any vessel, undertaking any operation, complementing existing technology – such as sonar – for complete peace of mind.
The difference between having this technology and not having it is night and day. Vessel crews and those monitoring operations suddenly have eyes on, and below, the surface, whatever the environment, weather, time, and location. Collisions can be avoided, potential dangers assessed and – even in busy and dangerous waterways – high speed operations can be maintained, allowing operators to stick to tight voyage schedules while also saving money.
The need for urgent action
Sometimes it takes an incident to open the industry's eyes and impose new safety regulations. The expedition cruise sector, with its off-the-beaten-track routes and a rush to meet market demand, is at real risk here. We urge the industry to look into the latest solutions, like LADAR, to avoid the accidents that are waiting to happen. It's not too late to set a safer course for this exciting, dynamic segment. The unique LADAR patented technology can be used by a range of customers, including shipowners, ports, the oil and gas industries, law enforcement authorities, offshore wind farms, aquaculture, and many more sectors.